You can see a selection below of some of the films that Féile has produced.
You can also view all of our films and more on our YouTube channel, Féile Media.
BE YOURSELF? LGBTQIA+ PERSPECTIVES IN DERRY
This new Féile production follows Dee McLaughlin, a youth worker from Creggan, as he meets with a range of members of the LGBTQIA+ community in Derry to share stories about the issues they have faced in the past, those they face today and their hopes for the future. A Communities In Transition project funded by The Executive Office.
---
TROJANS: UNUS SUMUS
Board members, players past & present of Trojans YCG and residents of Creggan feature in this new Féile film that documents the history and positive contribution the club and its members make to the Creggan area and wider city.
---
THE MAKING OF: A GREEN HILL FAR AWAY
In 2022, the Creggan estate celebrated its 75th anniversary. To mark this milestone, Féile worked with partner groups, residents and local young people on a new stage production, "A Green Hill Far Away".
The aim was to make a play that would give the audience an understanding of some of the events that have shaped Creggan. Featuring surprise performances from some local legends as well as musical performances from Paddy Nash, Daryl Martin and students from St Cecilia's College.
This never seen before documentary shows the making of Féile's play 'A Green Hill Far Away' over a 3 month period in 2022. Take a sneak peak at the behind the scenes work that went on!
---
SEÁN DOLANS – MORE THAN A CLUB
'Seán Dolans – More Than A Club', a new film by Ruairi Campbell.
Sean Dolans Gac is one of Derry's leading sporting and community organisations. The club is about to enter a new era with the opening of their new flagship facility in Creggan later this year.
Over the last six months, Féile worked with committee members, players past and present, and residents of Creggan to learn more about the history of Seán Dolan's and the club's vast contribution to community life in Creggan and beyond.
Watch the premiere of 'Seán Dolans – More Than A Club', a new film by Ruairi Campbell, this Thursday 8th December at 8pm on Féile's facebook page and YouTube channel!
A Communities In Transition Project funded by The Executive Office.
---
A NIGHT TO REMEMBER
Féile's latest Halloween film, A Night to Remember, follows the story of kids from Derry who, after a mundane night of trick-or-treating, try to rekindle some Halloween spirit. They decide to head to the Haunted House in Pilot's Row, but what they find will turn out to be more than they'd bargained for…
Féile worked with local youth clubs to create the new film, including Bishop Street Youth Club, Pilots Row, Cathedral Youth Club and Youth First.
The film stars Lily-Mae McMenamin, Keanan Duffy & Lucia Macari, alongside a host of young talent from youth clubs across the Bogside, Bishop Street and Fountain neighbourhoods.
Thank you so much to Anna's Cheeky Faces for the makeup and to Maureen Collins for her excellent portrayal of the old woman!
Quotes from Youth Leaders:
Jeanette Warke, Cathedral Youth Club:
It was lovely to see the young people all together. It was very moving and I would like to see more of this collaborative work!
Sibeal Duffy, Bishop Street Youth Club:
A beautiful event, and a great way to get our young people working together.
A Streets Alive project funded by Urban Villages.
---
FIREWORKS SAFETY FILM
Féile worked with Triax, Community Restorative Justice NW and Triax – Neighbourhood Management Team to produce this film which highlights the dangers and nuisance that fireworks often cause in communities at this time of year. Supported by Derry City & Strabane District Council. Thanks to Bishopstreet Youthclub and Pains Fireworks for their support in making this film!
---
FOUNTAIN YOUTH CLUB – A STORY THROUGH TIME
A Féile TV production for Streets Alive on the Cathedral Youth Club in the fountain, detailing its history of nearly 50 years.
---
LION FOR A DAY
In 2021, track and field coach and former international athlete Malcolm McCausland released his first book 'Lion For A Day' which tells the amazing true story of Nailor's Row's Olympic Medallist, Anton Hegarty.
The life of Anton Hegarty seems more fiction than fact. He escaped poverty and unemployment in Derry by joining the British army but ends up in two of the 20th century's bloodiest wars. Against all odds he survives, only to return to Derry and end up involved in war on his own doorstep. Despite all this he still continues to excel as an athlete and dreams of Olympic glory.
This short film produced by Féile tells some of his story!
---
CREGGAN TEENAGE DREAMS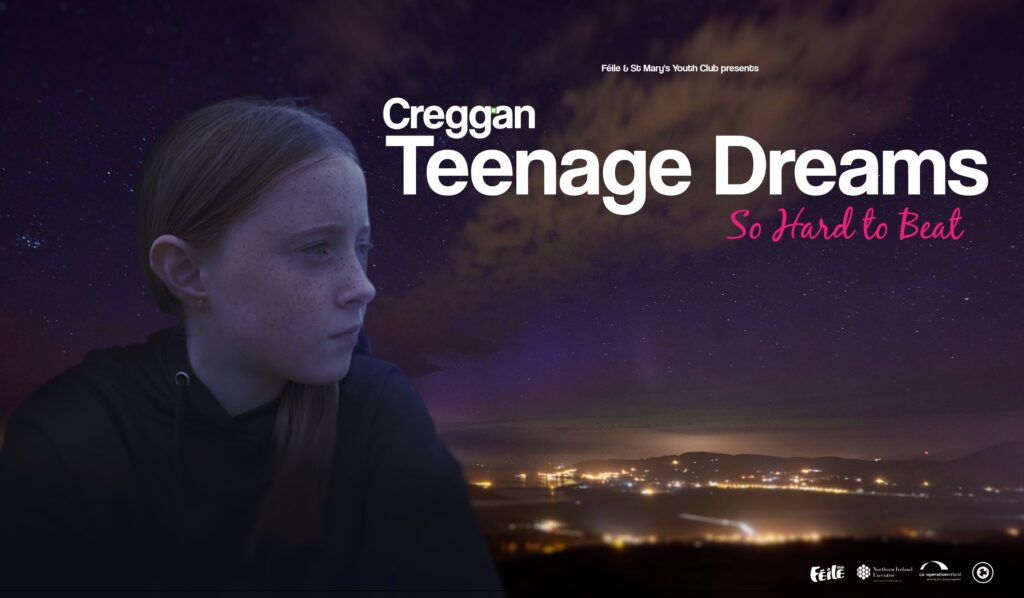 Creggan Teenage Dreams follows a young Creggan girl trying to pursue her dreams despite pressure from friends and family. This film would not have been possible without the hard work and commitment of the young people and their leaders at St Mary's Youthclub and Sean Dolans Gac. A Communities in Transition project supported by The Executive Office and Co-Operation Ireland. Written & directed by Ruairi Campbell. Filmed & edited by Amelia Films. Assistant Director: Darragh Gargan.
Watch on our official YouTube channel via the link below!
https://youtube.com/live/zAqQGoif2JA
---
OUT THE LINE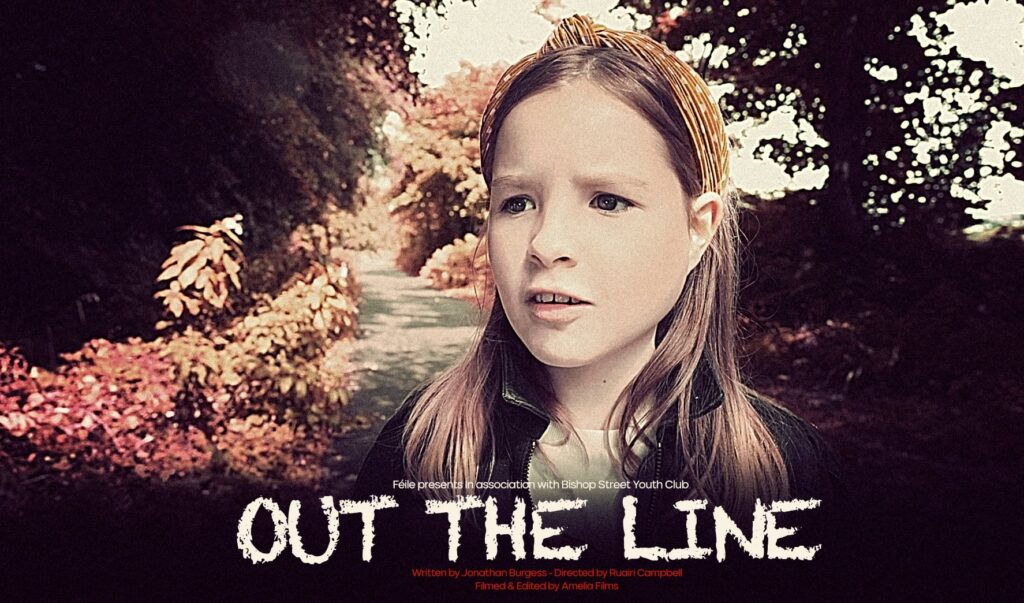 Féile teamed up with members of Bishopstreet Youthclub to create this short film about the fateful day a group of young friends ditched their phones and went a walk out the line. Well, they tried to, anyway…
Follow the link below to watch on our official YouTube channel!
https://youtube.com/live/-3EqvZfk3Bo
---
ECHOES OF THE GENUINE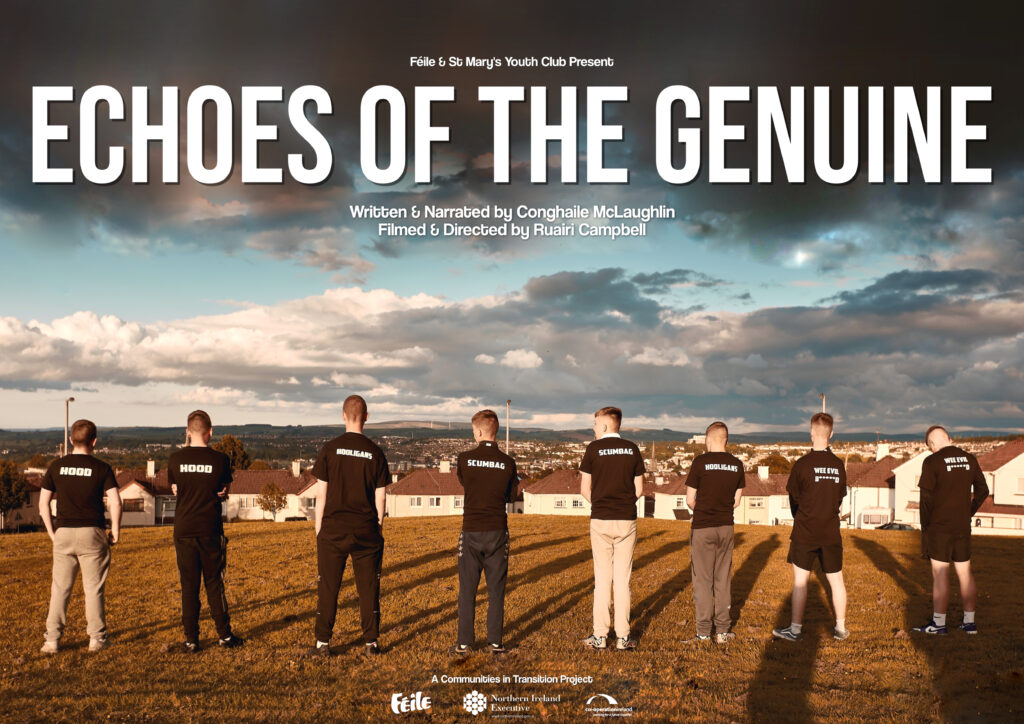 Over the last couple of months, Féile worked with youth leaders and young people from St Mary's Youthclub in Creggan to address the stereotyping and misrepresentation of young people in the area.
The result is Echoes from the Genuine, a short film produced with, written by and starring young men from Creggan. The film is accompanied by a spoken word piece, written and narrated by 15 year old Conghaile Mc Laughlin. The film was directed by another Creggan resident, Ruairi Campbell. Additional drone footage from Amelia Films.
Follow the link below to watch on our official YouTube channel!
https://youtube.com/live/SUNEbiTxAmg
---
A GREEN HILL FAR AWAY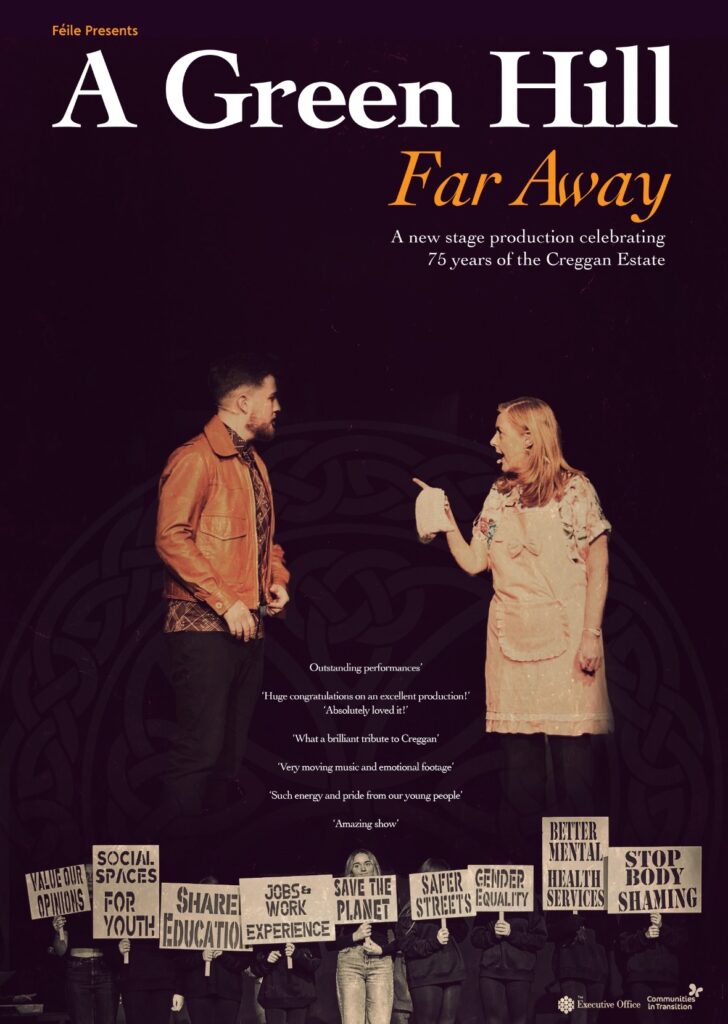 In 1947, the first houses were built in Creggan. In 2022, Féile worked with residents, young people, schools, youth clubs and community organisations to create a new stage production to celebrate the estates' 75th anniversary.
You can watch a stream of the play via the link below:
https://www.youtube.com/live/40gMPhiYWWo?feature=share
---
EQUINOX
The Covid 19 pandemic impacted every community across the globe. A year on from when Derry first entered lockdown, Gasyard Wall Féile worked with Ameila Films to produce a film with residents, groups and organisations from across Creggan and the Brandywell, reflecting on the first twelve months of the pandemic, and looking forward to the better times that lie ahead.
​The film features a series of light installations and projections by Visual Spectrum Studio at key locations across the neighbourhoods. We hope you enjoy!
---
GRIZZLY GERARD
In December 2020, young people from Long Tower YC and Bishopstreet Youthclub worked with acclaimed theatre director Jonathan Burgess and Amelia Films on a brand new film, Grizzly Gerard – Brandywell's answer to the Grinch!
---
THE HAUNTING OF THE BRANDYWELL & CREGGAN
In October of 2020, young people from Bishop Street Youth Club and Long Tower YC worked together to produce a short horror film, 'The Haunting of The Brandywell & Creggan' for Féile's
Halloween programme, containing several local ghost stories from the city.
They can't wait to scare the life out of ye.
Insurances (Public Liability & Employers Liability) are in place to cover all work.
You can see a selection of some of these great films below!
You can view all of our films and more on our YouTube channel, Féile Media.