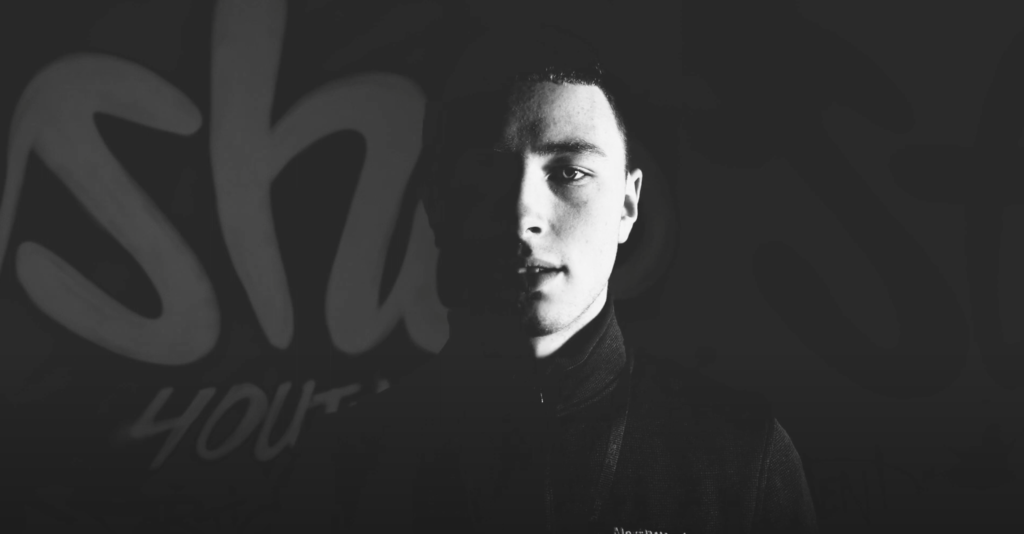 Since 2020, Féile Media, our film production social enterprise, has been creating broadcast standard films, documentaries, promotional films, community films and social media content for individuals, organisations and clients across the city and beyond. The innovative and groundbreaking content produced by Féile Media has been positively received by statutory organisations, community organisations, clients and residents with a number of films already featured on BBC Television and film festivals.
Previous/Current Clients: Gaslight Media Trust, Old Library Trust, Education Authority, Bogside and Brandywell Health Forum, Triax, Sean Dolan's GAC, Celtronic, Surestart Edenballymore, Triax Neighbourhood Management Team, Community Restorative Justice
---
Examples of Previous Work:

Seán Dolans – More Than a Club
Link to Film: https://www.youtube.com/watch?v=0L9i4iqMnZI
This film follows Seán Dolan's GAC from its inception in 1942 to the building of its brand new state of the art facility in 2022. We see the journey of the lifelong club members unfold as they deal with the trials, tribulations and unexpected tragedies that befell the club throughout the years.
Sanctuary
Link to Film: https://youtu.be/Diz1fImZTQk
In May 2022, Féile took six young men and two youth leaders from Creggan to help build Sanctuary with the artist David Best in Bedford, England, an unforgettable temporary structure and space of healing, built to commemorate the loss during the Covid-19 pandemic. Féile's videographer, Ruairi Campbell created a beautiful film that shows the lasting impact of the participants experience.
A Green Hill Far Away
Link to Film: https://youtu.be/CLm6HparRpw
To celebrate 75 years since the building of the first houses in Creggan, Féile worked with partner groups, residents and young people to produce a new stage production "A Green Hill Far Away". This film follows the process of making this play. Some of the main cast members were interviewed and the entire process of making the play was documented by a fly on the wall style documentarian filmmaker.
Graffiti On The Walls
Link to Film: https://www.youtube.com/watch?v=oHgqzHuNw9I
Graffiti On The Walls saw a number of new murals created in the Brandywell and Creggan by local/national/international artists and workshops at local schools/youth clubs where young people worked with facilitators to try graffiti art techniques and create new artworks.
James McClean – Back In Creggan
Link to Film: https://www.youtube.com/watch?v=qzcV5KNUjrI
This film followed footballer, James McClean, as he returns home to see his family and friends and to check out the new mural created by Aches. He also called by and surprised the students and teachers at Holy Child Primary School.
Fireworks Safety Film
Link to Film: https://www.youtube.com/watch?v=cqDOujsJaGM
Féile worked with Triax, Community Restorative Justice and Triax Neighbourhood Management Team to produce this film which highlights the dangers and nuisance that fireworks often cause in communities at this time of year.
---
TESTIMONIALS
Danny Cassidy – Seán Dolan's GAC
"The club was extremely fortunate when Féile offered to produce a commemorative film. Féile put a tremendous amount of energy and expertise into the film and they ensured that club members were involved at every stage. Everyone at Sean Dolans were highly impressed with Féile and the professional manner they adopted to guide us through all aspects of the film."

Aisling Hutton – Bogside & Brandywell Health Forum
"The expertise and guidance provided by Féile Media in relation to the marketing, PR and videography of our events has been second to none. Their expertise in capturing events and their outcomes proves very effective when it comes to reporting to our funders and letting the wider public know about our work."
Peter Nixon – St. Mary's Youth Club
"We have been partners with Féile for a number of years on a number of different projects. We recently created a series of films with young people giving them a platform to highlight the issues affecting their lives using creative techniques."
---
EQUIPMENT
Féile Media owns an extensive array of film equipment. Some examples below.
Sony A7siii DSLR Camera (Capable of 4K video recording, 10-Bit, 25-50fps, TV standard).
Sony A7ii DSLR Camera (Capable of 1080p video recording 25-50fps, TV Standard).
Ronin S Gimbal (Smooth tracking camera movement for dynamic shots).
Swivel head tripod (Great for interviews & vox pops. Smooth tilting and panning for event videography).
DJI Mavic 2 Pro Drone (Capable of 4K video recording. Stunning establishment shots of the area events are taking place).
Sennheiser MKH 416 P48U Shot Gun Boom Mic (TV standard sound quality, able to be used in very windy conditions and still record high quality audio).
RODE Wireless Mic System (Capable of recording high quality audio straight into the camera using a discreet clip-on microphone. Great for interviews).
Black Magic Atem Mini Live Switcher (Suitable of livestreaming and for live editing of multi-camera setup)
LED Lighting Kit (3 lighting boxes and stands capable of delivering a 3 point lighting set up. This creates a professional aesthetic in an interview setting).
High end PC for video editing. Capable of dealing with vast amounts of footage of all different resolutions.
Access to unlimited copyright free music for all of the required videos, covering a multitude of different genres that would fit any scenario.
Insurances (Public Liability & Employers Liability) are in place to cover all work.
---
You can see a selection of some of these great films below!
You can view all of our films and more on our YouTube channel, Féile Media.
---
THE MAKING OF: A GREEN HILL FAR AWAY
In 2022, the Creggan estate celebrated its 75th anniversary. To mark this milestone, Féile worked with partner groups, residents and local young people on a new stage production, "A Green Hill Far Away".
The aim was to make a play that would give the audience an understanding of some of the events that have shaped Creggan and the resilience and community spirit and brilliant people that make this place such a great place to live, work, play and visit. Featuring surprise performances from some local legends as well as musical performances from Paddy Nash, Daryl Martin and students from St Cecilia's College.
This never seen before documentary shows the making of Féile's play 'A Green Hill Far Away' over a 3 month period in 2022. Take a sneak peak at the behind the scenes work that went on!
---
SEÁN DOLANS – MORE THAN A CLUB
'Seán Dolans – More Than A Club', a new film by Ruairi Campbell.
Sean Dolans Gac is one of Derry's leading sporting and community organisations. The club is about to enter a new era with the opening of their new flagship facility in Creggan later this year.
Over the last six months, Féile worked with committee members, players past and present, and residents of Creggan to learn more about the history of Seán Dolan's and the club's vast contribution to community life in Creggan and beyond.
Watch the premiere of 'Seán Dolans – More Than A Club', a new film by Ruairi Campbell, this Thursday 8th December at 8pm on Féile's facebook page and YouTube channel!
A Communities In Transition Project funded by The Executive Office.
---
A NIGHT TO REMEMBER
Féile's latest Halloween film, A Night to Remember, follows the story of kids from Derry who, after a mundane night of trick-or-treating, try to rekindle some Halloween spirit. They decide to head to the Haunted House in Pilot's Row, but what they find will turn out to be more than they'd bargained for…
Féile worked with local youth clubs to create the new film, including Bishop Street Youth Club, Pilots Row, Cathedral Youth Club and Youth First.
The film stars Lily-Mae McMenamin, Keanan Duffy & Lucia Macari, alongside a host of young talent from youth clubs across the Bogside, Bishop Street and Fountain neighbourhoods.
Thank you so much to Anna's Cheeky Faces for the makeup and to Maureen Collins for her excellent portrayal of the old woman!
Quotes from Youth Leaders:
Jeanette Warke, Cathedral Youth Club:
It was lovely to see the young people all together. It was very moving and I would like to see more of this collaborative work!
Sibeal Duffy, Bishop Street Youth Club:
A beautiful event, and a great way to get our young people working together.
A Streets Alive project funded by Urban Villages.
---
FIREWORKS SAFETY FILM
Féile worked with Triax, Community Restorative Justice NW and Triax – Neighbourhood Management Team to produce this film which highlights the dangers and nuisance that fireworks often cause in communities at this time of year. Supported by Derry City & Strabane District Council. Thanks to Bishopstreet Youthclub and Pains Fireworks for their support in making this film!
---
FOUNTAIN YOUTH CLUB – A STORY THROUGH TIME
A Féile TV production for Streets Alive on the Cathedral Youth Club in the fountain, detailing its history of nearly 50 years.
---
LION FOR A DAY
In 2021, track and field coach and former international athlete Malcolm McCausland released his first book 'Lion For A Day' which tells the amazing true story of Nailor's Row's Olympic Medallist, Anton Hegarty.
The life of Anton Hegarty seems more fiction than fact. He escapes poverty and unemployment in Derry by joining the British army but ends up in two of the twentieth century's bloodiest theatres of war. Against all odds he survives only to return to Derry and end up involved in a war on his own doorstep. Despite all this he still continues to excel as an athlete and dreams of Olympic glory.
This short film produced by Féile tells some of his story!
---
CREGGAN TEENAGE DREAMS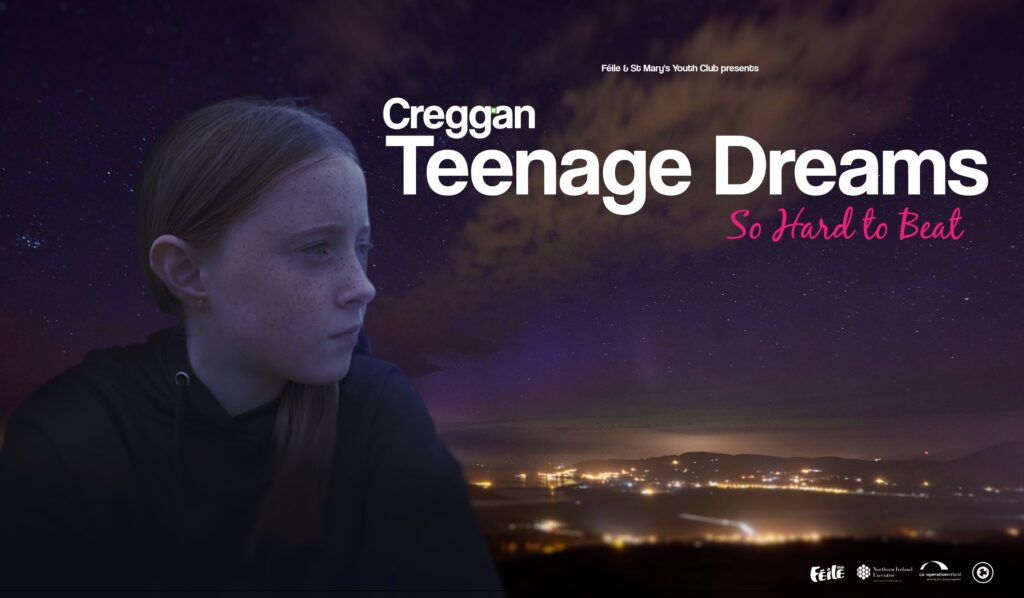 Creggan Teenage Dreams follows a young Creggan girl trying to pursue her dreams despite pressure from friends and family. This film would not have been possible without the hard work and commitment of the young people and their leaders at St Mary's Youthclub and Sean Dolans Gac. A Communities in Transition project supported by The Executive Office and Co-Operation Ireland. Written & directed by Ruairi Campbell. Filmed & edited by Amelia Films. Assistant Director: Darragh Gargan.
Watch on our official YouTube channel via the link below!
https://youtube.com/live/zAqQGoif2JA
---
OUT THE LINE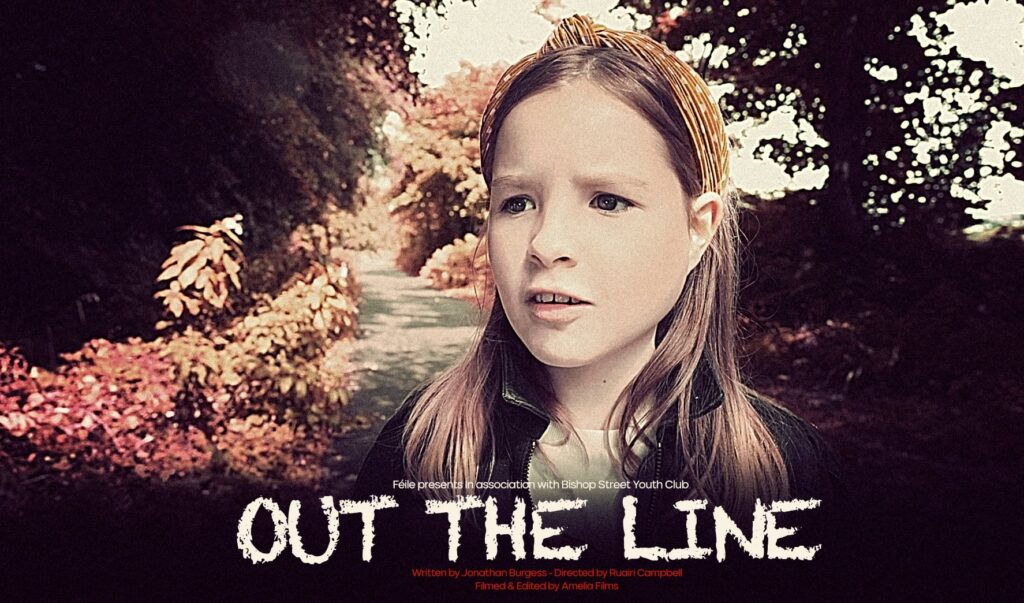 Féile teamed up with members of Bishopstreet Youthclub to create this short film about the fateful day a group of young friends ditched their phones and went a walk out the line. Well, they tried to, anyway…
Follow the link below to watch on our official YouTube channel!
https://youtube.com/live/-3EqvZfk3Bo
---
ECHOES OF THE GENUINE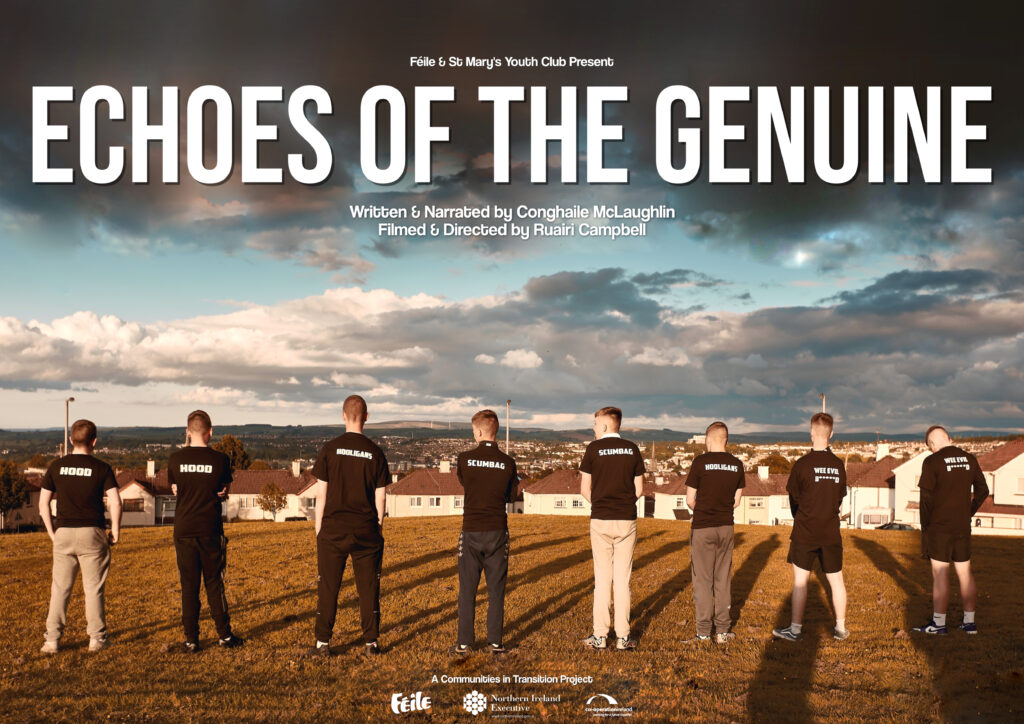 Over the last couple of months, Féile worked with youth leaders and young people from St Mary's Youthclub in Creggan to address the stereotyping and misrepresentation of young people in the area and their calls to be listened to by fellow residents.
The result is Echoes from the Genuine, a short film produced with, written by and starring young men from Creggan. The film is accompanied by a spoken word piece, written and narrated by 15 year old Conghaile Mc Laughlin. The film was directed by another Creggan resident, Ruairi Campbell. Additional drone footage from Amelia Films.
Follow the link below to watch on our official YouTube channel!
https://youtube.com/live/SUNEbiTxAmg
---
A GREEN HILL FAR AWAY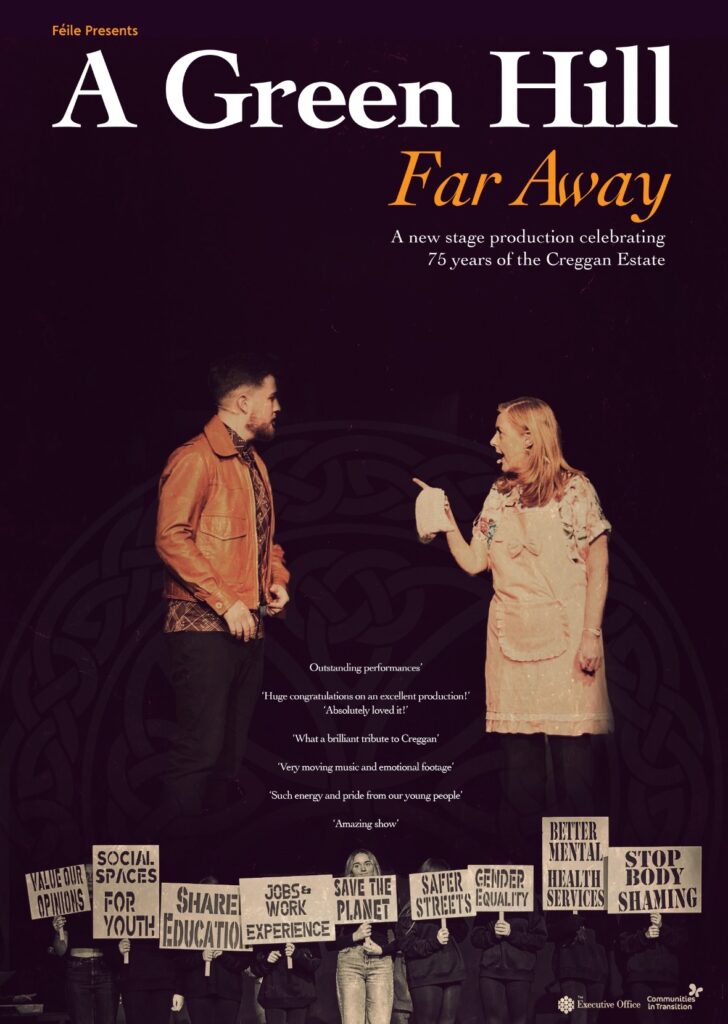 In 1947, the first houses were built in Creggan. In 2022, Féile worked with residents, young people, schools, youth clubs and community organisations to create a new stage production to celebrate the estates' 75th anniversary.
You can watch a stream of the play via the link below:
https://www.youtube.com/live/40gMPhiYWWo?feature=share
---
EQUINOX
The Covid 19 pandemic impacted every community across the globe. A year on from when Derry first entered lockdown, Gasyard Wall Féile worked with Ameila Films to produce a film with residents, groups and organisations from across Creggan and the Brandywell, reflecting on the first twelve months of the pandemic, and looking forward to the better times that lie ahead.
​The film features a series of light installations and projections by Visual Spectrum Studio at key locations across the neighbourhoods. We hope you enjoy!
---
GRIZZLY GERARD
In December 2020, young people from Long Tower YC and Bishopstreet Youthclub worked with acclaimed theatre director Jonathan Burgess and Amelia Films on a brand new film, Grizzly Gerard – Brandywell's answer to the Grinch!
---
THE HAUNTING OF THE BRANDYWELL & CREGGAN
In October of 2020, young people from Bishop Street Youth Club and Long Tower YC worked together to produce a short horror film, 'The Haunting of The Brandywell & Creggan' for Féile's
Halloween programme, containing several local ghost stories from the city.
They can't wait to scare the life out of ye.
---
FÉILE FILM COLLECTIVE
Féile set up a film collective made up with local young people to create films around key moments and times of the year, as well as tackling issues that affect young people living in the area. The finished films were used as discussion tools at local youth clubs. They were also streamed via Féile's various social media channels on Facebook, Youtube and Twitter.
Take a look below at some of the films that were created!
Halloween: The Witch Beyond The Heights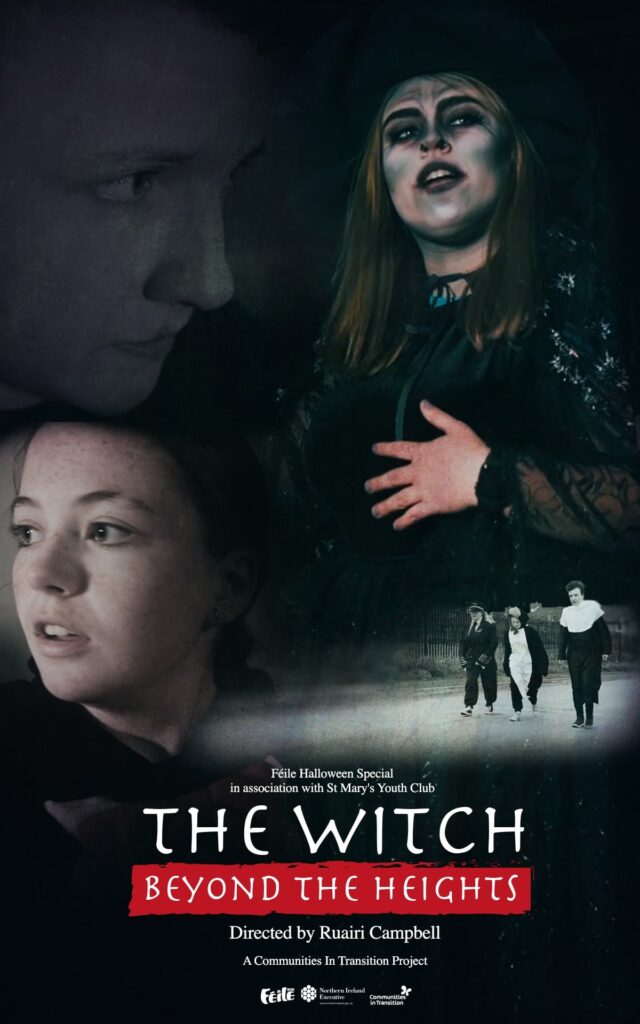 The Witch Beyond the Heights follows a group of young people who, after receiving a mysterious book from a witch on the backroads of Creggan, accidentally unleash a horde of zombies across the neighbourhood!
Féile worked with local young people aged between 15-18 from St Mary's Youth Club in Creggan to develop the premise and script the film. It was filmed on location in Creggan using the neighbourhood's streets and green spaces as a backdrop. The project involved 30+ young people via a variety of roles including acting roles, filming roles and various crew roles. Féile also worked with community groups including St Mary's Youth Club, Long Tower Youth Club, Pink Ladies and schools and organisations from across the area to create a truly collaborative, participative film.
---
Anti-Bullying Week Film
Féile Film Collective developed, wrote and starred in the film about cyberbullying. It addresses the effects that online bullying has on our young people, but more importantly, the message that you are never on your own. No one should suffer in silence!
---
A Christmas Presence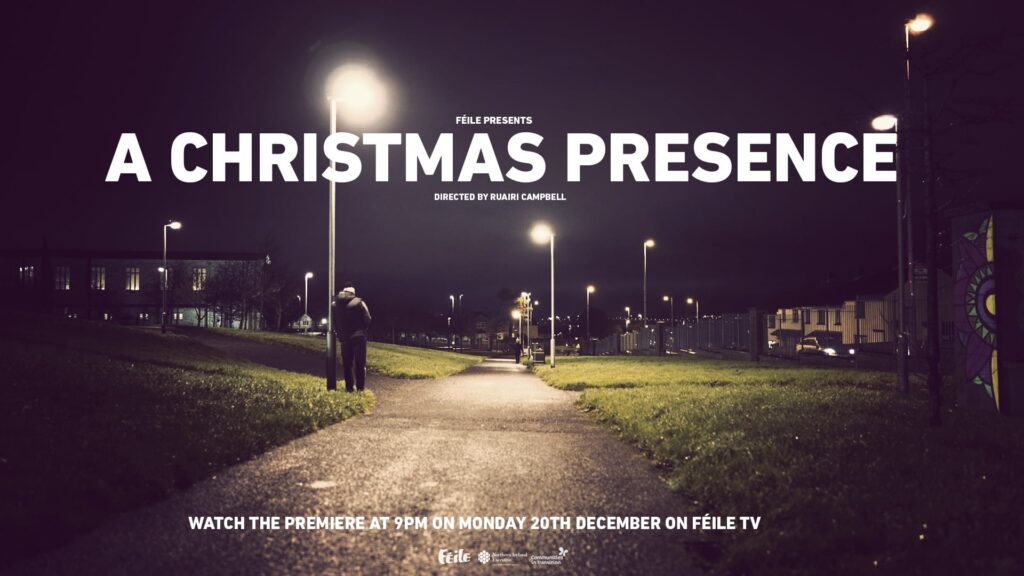 Féile produced a new film for Christmas, 'A Christmas Presence.' It follows a father whose gambling is spiralling out of control in the lead up to Christmas and stars Creggan teenager Kian Curran and local community workers including Old Library Trust's George McGowan. The film was a collaboration between Féile, St Mary's Youth Club, Long Tower Youth Club, Old Library Trust, Bishop Street Youth Club, Creggan Neighbourhood Partnership and CRJ.
---
Mental Health Film: Growing Together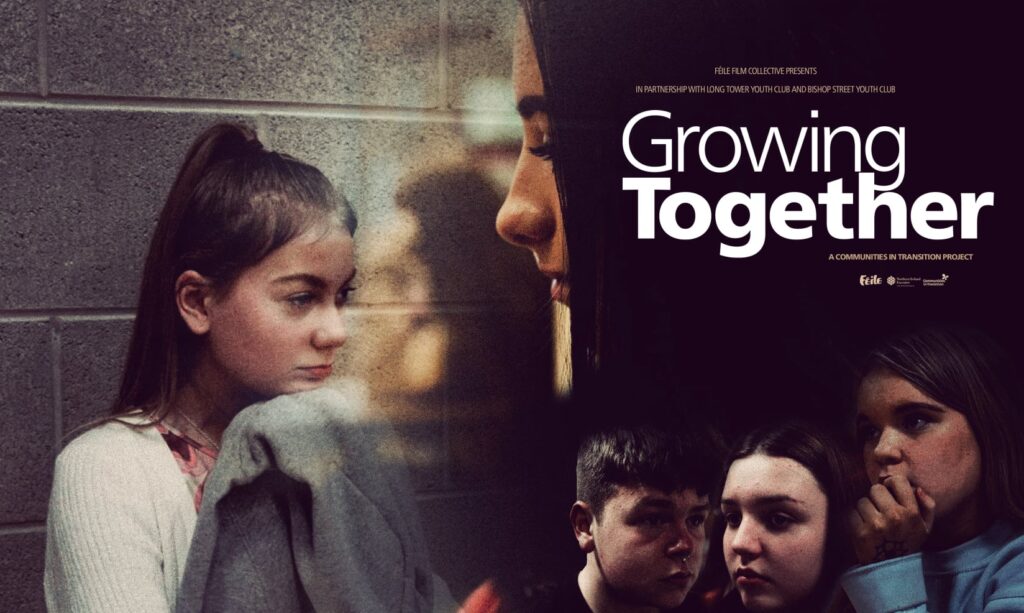 For Mental Health Week, Féile's videographer worked with the collective to create 'Growing Together', a film that tackled issues around mental health that was reflective of the issues that young people face in Derry. This ensured it was made more personal to the young people from Derry who watched the film.
The group met once a week for script development sessions. During these sessions, the young people talked about several issues that they themselves faced and found a way to compile these into a compelling film narrative. We made the video over the course of three filming sessions, where the young people got a chance to see what the process of filmmaking is like!